As mentioned in the previous article about Bern, we came here to visit our friends. But my friends live in Konolfingen, an municipality in the canton of Bern, about 20 km from the center of Bern. This place was very nice and peaceful with Swiss houses nestled in the fields and endless hills. During my visit days, my friend took us to the top two most beautiful mountain lakes in Bern. Both were mountain lakes with beautiful blue water, covered by majestic mountains.
Top 2 mountain lakes in Bern:
Oeschinensee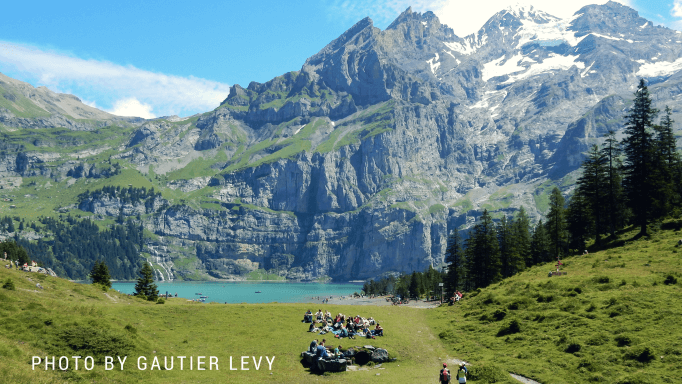 The first lake was Oeschinensee, about an hour away from Bern centre by car. The lake was located in the UNESCO World Heritage Site, Jungfrau Aletsch. Surrounded by majestic mountains, the deep blue Oeschinensee lied between ancient glaciers and pine forests, with many scenic walks and waterfalls. Some guides even claimed that this mountain was the most beautiful in the Alps – and they were not wrong.
To get to the lake, we could take a scenic walk, taking about an hour or go by cable car to enjoy beautiful scenery from above.
I really admired my friend's two children. They are small but independent. We – adults were so tired but they wanted to go without help. We had a good time and enjoyed the beautiful scenery along the way. The sinuous road winded with green grass and blooming flowers. From above you could also saw the Swiss villages between the majestic mountains. Although it was summer but there were still some snow on the mountain top which made the scenery even more beautiful.
There were many activities such as camping, picnicking, swimming, fishing or boating. The water was so clean and so pure that local people used it for drinking water.
Like other picnic groups, we prepared bbq for lunch. What could be a better way to have lunch in such a beautiful scene. As an Asian and living in a tropical climate, I was once again impressed by our friends' two children and the others when they came down to swim in the lake. Although it was summer, the water was cold like ice. I sat on the shore but got goosebumps all over. After lunch we rested under pine trees and took pictures. When we left, many groups were still arriving.
Gantrischseeli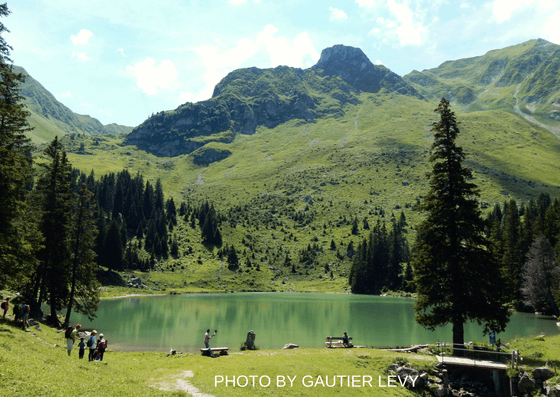 The second one was Gantrischseeli, also about an hour from centre of Bern by car. This lake was a romantic little one located in Gantrish Park.
To get to the lake, we had to walk up to the mountain, passing green grass with cows grazing. When I saw the lake from afar, I was really stunned for a moment because the lake was so beautiful and the sound of some musical instrument was echoing. As we approached, we realized there was a man blowing alphorn, a traditional Swiss trumpet.
This was the first time I had seen and heard this instrument. The image of a person standing by the lake and the sound of the alphorn created a charming atmosphere.
Like Oeschinensee, we could also go hiking, picnicking, fishing or swimming here.
We chose a shade to sit and enjoy the wonderful view. After a while, we planned to walk up the mountain but unfortunately it started to rain so we left in pity. But on the way back, the sky was clear again and we also found a beautiful stream to make a party bbq. The rain kept starting and stopping, so it was difficult to get some fire. But in the end we were able to make it and had a good and full meal.
Although the time in Bern was very short but we were very happy because of beautiful memories. I had to thank you my friends very much for inviting us to Bern and showed us such beautiful places. And thanks to that I had a more special love for Switzerland than the first visit to Zurich. I will definitely go back to Bern and visit other places in Switzerland in the near future.