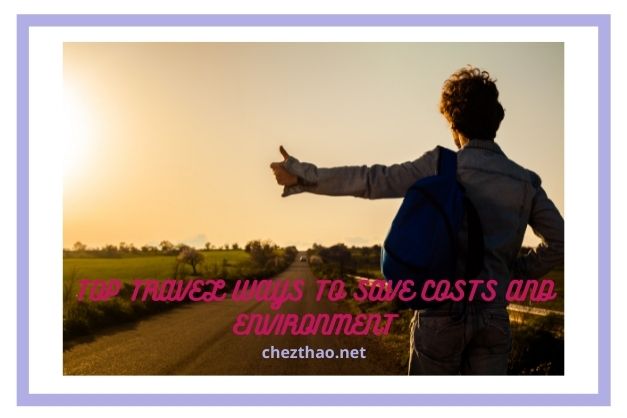 Usually we use airplanes, train, bus or car when traveling, but in this article I would like to introduce you three top travel ways to save costs and environment listed below. The first one you probably know, but the other two which are quite popular in Europe but may be quite new for Vietnamese.
Tops travel ways:
1. Hitchhiking
We used this way of travelling most in our nearly eight month trip in Europe. Actually I had been a little nervous at first, but after the first day I liked it a lot. Thanks to hitchhiking we recognized that there were such many good and generous people around us and we met many interesting people who gave us a lift as well. I will tell you some interesting examples:
The first story was in France. We were given a lift by a French who was born in Hanoi during the time his parents were living there. He left Vietnam to France with his family when the war in Vietnam ended. What a coincidence! He asked me whether the Vietnamese still hated the French but I told him that the young generation do not forget the past but also no longer hold grudges in our hearts. I saw him so glad to know that.
The second story was in Switzerland. There was a Turkish-Swiss who gave us a ride from Geneva to Bern. On the way we were surprised to know he did not go to Bern. The reason he took us because he saw us standing there for nearly 2 hours and no one gave us a lift. He was free so he just took us to Bern. From Geneva to Bern it didn't take 20 minutes but 2 hours. How could he be so generous. He also wanted to take us to the find our my friend's house, but we refused because we had bothered him enough.
The third story was in Germany. This was the first time we had had a chance to travel in a container truck because a German container truck driver gave us a drive. Where we wanted to go was the border between Germany and Denmark. He lived about 20 minutes from the border but still wanted to take us there. He were very enthusiastic when knowing that we wanted to buy fishing rods to fish in Norway. He called his friend to ask where to buy fishing rods near the border and took us there. He also told us that he loved Vietnamese food because there was a good Vietnamese food store near his place. To tell the truth, for the first looking at him, we were a little scared because he looked muscles and mafia. But when we talked to him in the car, we were relieved that you turned out to be very funny and nice.
The fourth story was in Denmark. It was late in the afternoon and quite cold. We were waiting forever without anyone giving us a drive. Fortunately, a Dutch living in Denmark took us. He also suggested that we could borrow his caravan in a camping near the sea to sleep when he knew we did not know where we would sleep that night. He drove us to the camp though his house was not in the same direction as the camping, and he also took us around the camping to guide us carefully to everything. He said we could stay as long as we wanted to. What a generous person!
And I still have a lot of interesting stories but maybe four are enough for this article.
Besides cost saving and meeting generous people with such interesting and unforgettable experience, when doing hitchhiking, you should also consider carefully that you may encounter someone who does not have good intention with you, giving you a lift. Therefore, you should be careful when choosing who to go with and women should be more careful when doing hitchhiking alone.
Another note is there might by a possibility that the driver may go away with your belongings after stopping at a store or gas station. To avoid this, you should keep your belongings, especially your valuable stuff – always at your disposal. Although I take into account these bad things when hitchhiking, but in Europe, we had not encountered any bad or even not nice people.
I also want to share some small tips for you to catch a drive easily:
You should dress cleanly because very few people want to give a person with anbumpy look a drive right?
Often, it is easier to hitchhike in the countryside than in a larger city. If you want to go from one city to another, it is easier to hitchhike near the way out of the city in the direction of the city you want to go. Or if you want to go from one country to another, gas stations on highways are the best choice.
You should have the nameplate of where you want to go, written large enough so that the rider can read from far, about 15m. This saves them time to stop the car.
You should just stand on the roadside, do not go out in the middle of the road to wave. It will be very dangerous and obstruct the traffic.
And to hitchhike, your plan must be flexible because you will not know when you will be able to catch a car and when you will get to where you need to.
2. Carpooling
This type of traveling means a person who has a car and needs to go from point A to point B. He also let other people who also want to travel from A to B (paying) go with him in the same trip. This provides mutual benefit because the car owner has a share of gasoline cost, passenger(s) save cost because the cost of carpooling is much cheaper than traveling by plane, train or bus. You can go online to register and book a trip. When the car owner confirms the trip, then the two of you will choose the venue to meet on the day of departure. Once you arrive, you will give him the confirmation code so that he can be paid and you can give him a review if you want.We have used this service sometimes and have been quite happy with it because it's user-friendly and very cost-saving.
In France there are popular carpooling sites such as Blahblahcar, iDVROOM or RulezMalin.
In Europe there are Europe Carpooling, Ride Finder or Euro KM.
Please read the reviews of the car owner carefully before choosing. And when you take carpooling, remember to be punctual and behave properly in the car. Not only will you give a review for the car owner but he also will be able to do the same for you. If you are under-evaluated then the chances of going for the next trip will be difficult.
3. Carsharing
I haven't used this type of travelling yet, but it sounds useful when hearing a friend saying so. If you only need to use the car once to go shopping or somewhere for a day. Especially if you want to spend a day in the suburbs of the city, where it is difficult to travel by bus. Or you want to go from city A to city B (without returning the car back to city A) and you just need to park in the right parking for the car in city B, then this is a good option.
You only need to register and reserve a car by phone or internet a few minutes before using the car. The price of each time of using depends on the duration the car used, travel distance and includes all costs associated with the vehicle. The price also includes parking fees, maintenance, insurance and fuel. You will be flexible in choosing a car, as you can choose a vehicle of different sizes depending on whether you go alone or with someone else. They are new cars instead of old ones.
ECO-Transport has listed for you in its carsharing directory all companies offering carsharing in France. Here is the website http://www.eco-transport.fr/annuaire-autopartage-france/. In Europe there are Ubeeqo, Car2go, BlueIndy, DriveNowIn America there are BRIDJ, ZipCar, LyftThis is a list of all companies offering carsharing provided by Wikipedia: https://en.wikipedia.org/wiki/List_of_carsharing_organizations. All of the three types I mentioned are environment friendly and help reduce traffic jam.
Hopefully this new information will help you choose the transportation which is cost saving and suitable for you so that you will have a smooth trip.