Don't Vietnamese cuisine such as pho, goi cuon, bun bo and so on sound exotic? And you desire to learn how to cook them? Join the cooking class of Chez Thao.
Traditional Vietnamese cuisine is greatly admired for its fresh ingredients, minimal use of dairy, gluten-free ingredients and oil, complementary textures, and reliance on fresh herbs and vegetables. Vietnamese cuisine varies greatly depending on the region. The North is closer to China and the food often reflects that influence while South and Central Vietnamese cuisine tends to include many sweet and spicy dishes. Overall, Vietnamese cuisine relies on a balance of salty, sweet, sour and hot/spicy flavors, often achieved through the use of nuoc mam (fish sauce). And if you are a vegan or vegetarian, do not worry, there are many Vietnamese vegan or vegetarian dishes, too.
Even though I am not an official trained chef, but I have been trained at home since I was 10 by my mom, who was a chef for a restaurant in a hotel before. I have been cooking for my family and friends since then. I have also taught my foreign friends how to cook Vietnamese dishes in Saigon. I am passionate about cooking and enjoy tasty and healthy food. I am very proud of the cuisine of my home country and I would like to offer you not only home-style cooking classes of healthy and delicious authentic both South and North Vietnamese dishes even without MSG (Monosodium glutamate) and with very little or no sugar, the spices which you can find in a lot of other Vietnamese cuisine recipes but also to share my knowledge of Vietnamese culture, especially food culture and traditional cuisine.
It really doesn't matter whether or not you have cooked before. We will start from scratch and I will show you what ingredients to source. I will then advise you on how best to prepare the food prior to beginning the cooking process. Finally, I will guide you step by step through the cooking process. We will cook together and I will share my cooking experience/tips with you to ensure you to get the best results from your ingredients. Again, if you prefer I can help you adapt my traditional recipes to your own tastes and/or dietary requirements.
Cooking class fees: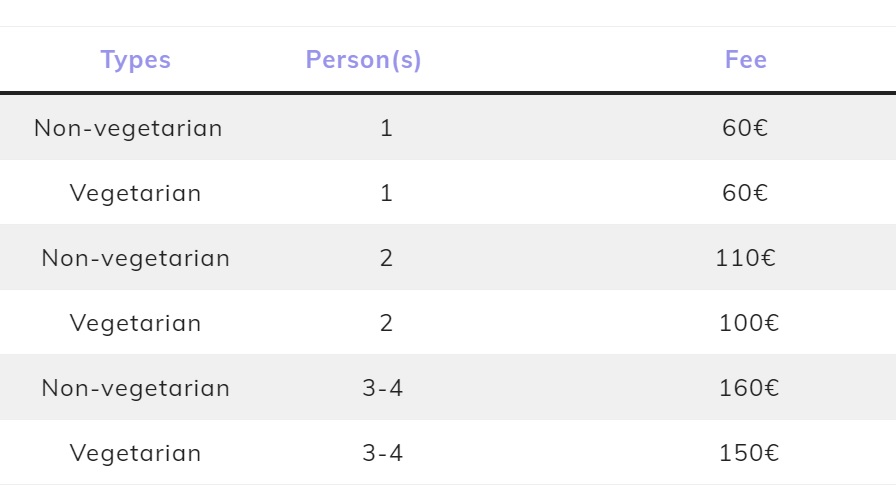 Conditions:
The price is inclusive of ingredients and exclusive of transportation charge. The transportation charge depends on the distance of travelling from Chez Thao to your place.
The class lasts about 2 hours and includes 2 dishes – 1 appetizer and 1 main dish or 1 main dish and one dessert.
Recommendations for my cooking class
Don't have time to join our cooking class? Let check out our delicious recipes to do it at home yourself!