I missed a chance to visit Bern in 2015 due to an urgent business. I did not regret it when I visited Zurich I wondered why people keep praising Switzerland as such a beautiful country because I did not feel impressed by Zurich at all. But in 2016 when I returned to Switzerland to visit my friend, that is when I really regretted that I did not come to Bern sooner.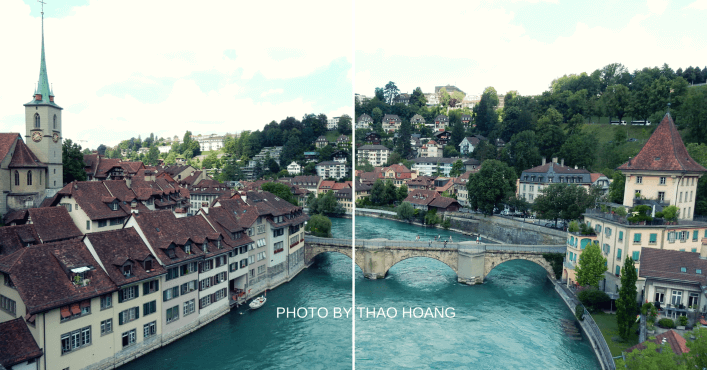 On the way from Geneva to Bern, there were full of sunflowers and green grass hills which took my heart away. But when I came to the bridge in the old quarter, I even had to say, "Oh, beauteous!" For sure that's why it is named one of Europe's most beautiful cities and UNESCO World Heritage Site.
What to see in Bern center?
Surrounding the old town is the Aare River with crystal-clear turquoise water. Bern has pebbled alleyways, connecting houses with arcades or stone paths that have existed for centuries decorated by many fountains. Clock Tower (Zytglogge) and Prison Tower (Käfigturm) are also prominent features of Bern. Transportation is not allowed in the old town. Beside travelling on foot, people also travel by bicycle and tram. What I find most interesting here is that bars, cultural venues, and specialty shops in countless converted cellars .
We also discovered a very special chessboard right in the Old Town area. The chess players are very passionate.
Surrounding the city are the hills and rivers that covered with trees, lurking around the arcades of the old town and the view of the majestic Alps at the end of the horizon which is extremely spectacular.

Bern has a rose garden on the hill leading to Bear Park and the large Minster garden with plenty of shade. It features a restaurant in a prime location and a wonderful view of Bern!
In the summer, we can experience swimming in the Aare, drifting along the clean Aare stream and watching the Parliament building. The Botanical Garden is also located along the river, the Dählhölzli Zoo and the old Matte.
If you like to visit the museum then there are many museums in Bern such as the Einstein Museum, Museum of the Swiss Alps, Bern Historical Museum, Museum of Art and Bern Museum of Communication.
Not only the beautiful city, but the natural scenery around Bern is also gorgeous. Stay tuned for the next article on these beautiful scenes!
Check out mountain lakes in Bern!