Insurance in general and travel insurance in specific haven't got a serious consideration by most of Vietnamese people. I had the same mindset before and I just bought it as an obligation but then I changed my mind when I saw how it helped my situation as well as the others' around me.
When talking about insurance or administration thingy, we usually think it's too complicated to do to get our payback or covered but it's not that troublesome as we think.
We completed the procedures for getting reimbursements for flight delays or stolen belongings before and it could not be easier as long as you follow all the requirements of documents. And getting those documents is within your hand.
Or one of my friends got covered for most of the treatment for her suddenly serious sickness for which she had to be transferred with emergency helicopter from Vietnam to Thailand and from Thailand back to Scotland. So you can see completing those small document procedures is nothing compared to those possible problems related to the trips.
Therefore, I would like to write something about travel insurance within my knowledge to share with you to help you to be aware of it and what you should pay attention when considering buying one.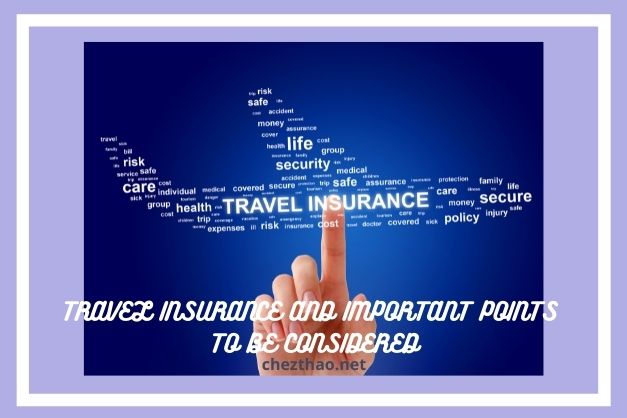 Why we should buy travel insurance?
Because it helps us cover unexpected medical emergencies and events such as trip cancellation or delay, your personal effects, lost, stolen or damaged luggage by an airline, and other related losses incurred while traveling.
There are different levels of coverage depending on: the plan, the insurance company you work with and the size of the deductible (excess) if you don't purchase online from an international insurance company. One thing you have to take into account is that travel insurance is not a substitution for your health insurance policy in your home country. Whilst there is a medical component in your travel insurance policy that can cover a sudden illness or accident, the level of that cover depends on what plan and provider you choose!
You can choose annual trip or single trip cover, it's up to your travel habit and plan. If you know you are going to travel several times within in a year, then an annual travel insurance policy (multi-trip policy) would be a good choice because it covers all your trips and can be far more cost effective. If not, you can just use a single trip one.
And if you want to travel for a long time, it's the best to buy an annual travel insurance policy because after that you will be able to reconsider if you want to continue with the same insurer with the same policy or change the policy or even change the insurer.
And besides, you never know if your plan of travelling will have to be changed or not so annual travel insurance policy is the best choice. But I am not sure if annual travel insurance policy already comes to Vietnam. If not, there is a half-year insurance policy for your choice.
And after knowing the length of travel insurance is suitable for you, then now which travel insurance policy should you choose? That depends on your needs and situation: the place you are travelling to; the means of transportation you are travelling; the activities you will do; the length of the trip; the people you are travelling with and the values of your belongings. In Vietnam, there are usually 3 options: superior, classic and basic coverage.
Important points that you need to take careful consideration when choosing the travel insurance policy:
1. The extent of coverage
Does the policy cover only for medical expenses incurred abroad, or can you also get reimbursement for medical treatment continued in your home country?
2. Payout time and requirements
What supporting documents are you requested to attach to your claim? Most of the insurance company ask for:
Completed Travel Claim Form
Original Insurance Policy
Photocopy of Passport
Photocopy of Airline ticket/ Boarding Pass
Proof of duration of the trip if the travel policy is an annual policy
Documents from employer to certify nature of the trip if the travel policy is corporate travel policy
Supporting documentation on incident's circumstances and claimed amount
So remember to keep your airline tickets, boarding pass, proof of duration of the trip, business trip decision, police report in case of robbery or theft, receipt of your valuable belongings… anything related to your trip.
3. Amount of premium
Are you paying for the right coverage or can you upgrade/downgrade as needed? How much will it cost to extend the insurance to your baggage? How much to include items that you might buy abroad, such as furniture or paintings?
4. Check the Exclusions
Travel insurance policies will have a list of exclusions they won't cover you for. For example:
Severe weather conditions or natural disasters
Acts of war, terrorism, uprising or civil commotion
Many policies will not cover if something happens while you are under the influence of alcohol or drugs!
Sport and adventure activities with high risks
Travel to high-risk countries
Pre-existing medical conditions
But separate insurance can be purchased for an additional cost for the last three.
So choose a travel insurance policy with the least exclusions, and pay special attention to them when reading an insurance policy.
5. If you will hire a car or motorbike or any other motorized vehicle when you travel then make sure that you will discuss with your travel insurer to check if it's covered by your insurance policy if something happens when you are using those vehicles.
6. Cover for expensive belongings such as high valuable cameras, laptops or smart phones… Some policies do and some policies don't cover for those. You can figure it out with your insurer and get them covered if you want.
7. Cancellation/delay policy
It's no fun if you get sick before you leave and can't go on your trip. Many unexpected problems can happen. Not all insurance policies cover cancellation/delay of flights and accommodations, so please read the policy wording related to you carefully.
8. Violation of laws
The insurer will not cover the violation of laws you commit when you travel. So spend more time to know what you should and should not do about the place you are travelling to.
If you are thinking of buying cheap travel insurance policy, I would say you pay for what you get. It works well with travel insurance as well. The creditable travel insurance policies and companies provide good coverage and will work with you to give you the best experience possible. So I hope these tips will help you to have more inspiration to pay more attention to the travel insurance policy you buy and more motivation to carry out the proceed for the payback if needed.
Check out our other travel tips!