Arnica is a herb known to relieve bruises, bumps and joint pain. What are its benefits and applications of this flower? Also discover some recipes for infusion, tincture and homemade arnica balm …
Arnica montana, a … mountain plant!
The mountain arnica, Arnica montana, is a plant of the Asteraceae family, which grows in the mountains, on acidic and nutrient-poor soils. This herbaceous plant forms a rosette of basal leaves, and the flowers, which bloom between May and August depending on the altitude, are golden yellow.
Arnica montana is rare in nature, a victim of intensive agriculture, over-grazing, alkalization of soils by fertilizers and amendments …
Note: Affiliate links may be used in this post. I may receive a small commission at no extra cost to you if you use my affiliate link. Full disclosure policy here.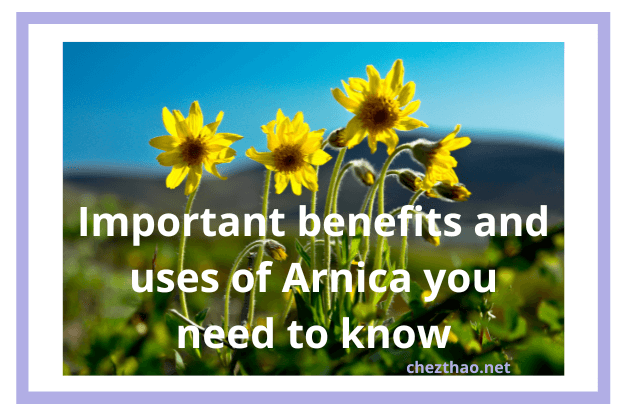 Health benefits
Arnica has been known since the Middle Ages for its medicinal properties, particularly anti-inflammatory and anti-neuralgic. Arnica is traditionally used to soothe muscle and joint pain, to relieve hematoma (bruises), edemas (bumps), contusions (traumastism linked to shock). It is the ideal ally for parents of daredevils of children, as well as athletes!
Other possible uses of arnica: to calm sore throats, especially in cases of angina, as well as as an anti-lice treatment (read: Anti-lice at home: natural solutions).
Usages
Arnica is mainly used externally. Absolutely avoid applying it to open wounds or even simple scratches.
Generally, it is used in the form of a tincture (to be diluted) or an infusion which is soaked in a compress to be applied to painful areas. You can also use the infusion of arnica as a gargle to soothe sore throats (well spit it out!). Arnica ointments and balms are also commercially available, more practical for bruises and bumps.
Arnica flower recipes
You can easily prepare an infusion, tincture, macerate oil or arnica ointment yourself. Here are some basic recipes:
Arnica infusion: immerse 10-15g of dried arnica flowers in a liter of boiling water. Leave to infuse for 15 minutes. Filter and use immediately.
Arnica tincture (can be kept for several months): in a hermetically sealed jar, immerse 100g of dried flowers in 50cl of alcohol at 60 °. Leave to macerate for 10 days then filter and store the tincture in a tinted glass bottle, and closed. The tincture is to be used diluted at 50% in water.
Arnica oil (more exactly, oily macerate, can also be stored for several months): fill a glass jar with dried flowers, cover with a vegetable oil of your choice, close the jar and let macerate for at least a month, at away from light. Filter and store in a cool, tinted glass bottle.
Arnica balm: mix 15g of beeswax or melted vegetable wax and 85g of arnica oil, pour into a pot and let harden. For a minute application or for troubleshooting, mix in the palm of your hand a few drops of arnica tincture with any moisturizer, apply immediately.
Precautions
For internal use, it is better not to risk self-medication with homemade preparations (arnica is toxic). Prefer homeopathic forms sold in pharmacies.
In homeopathic medicine, Arnica montana has the following indications (respect the dosage recommended by the manufacturer laboratory):
Hematomas, post-traumatic pain, inflammation
Prevention of cardiovascular risk, protection of capillaries
Prevention and treatment of AMD Treatment of certain postoperative pain.
More about wild edibles articles!