Every year, thousands of people come to the South of France to enjoy lavender blossom fields and valleys. So when and where to see lavender flowers?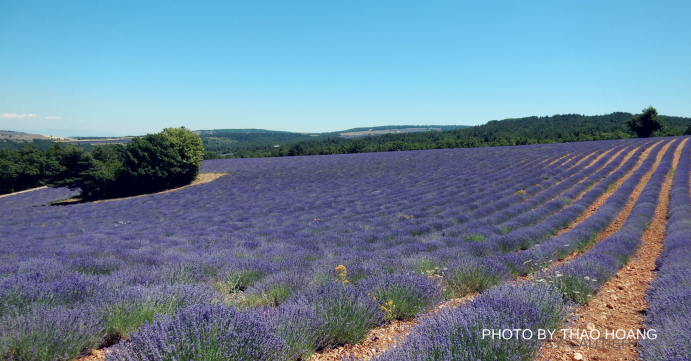 When to see lavender?
Lavender season is from mid-June to mid-August, at the same time with the peak holiday season in Europe. So the best time to see lavender is around late June to avoid the crowds of tourists.
Where to see lavender?
Abbey de Senanque
Abbey de Senanque – where the monks grow lavender is a place worth to visit. But you must note that this place is very crowded with tourists during lavender season so it is difficult to find a place to park.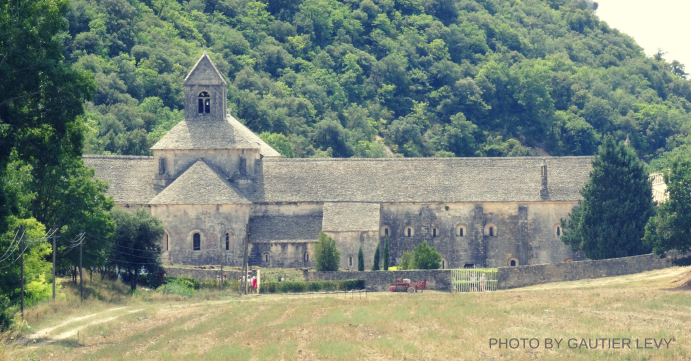 Sault
Of course when it comes to lavender, we have to mention Sault – the capital of lavender. And like Abbey de Senanque, there are a lot of tourists in Sault.
For quiet walks full of lavender around, there are some trails that you can go hiking and enjoy the scenery of fields, hills or valleys full of lavender and barley flowers. without being disturbed by many other visitors.
Lavender map
Here is the map for lavender areas and trails to go hiking: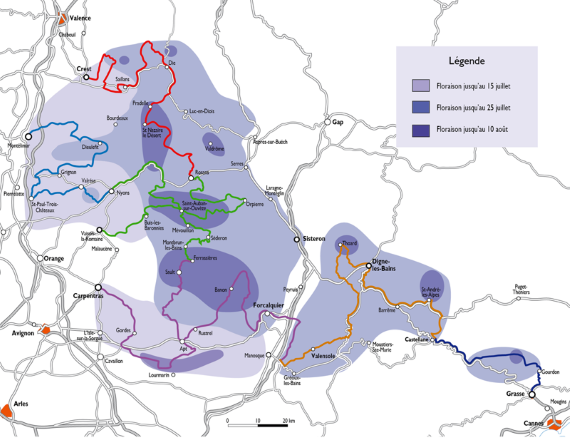 From Drome-Diois Valley to Haut-Buëch: Lavenders hatch from mid June to July around Crest and last until the beginning of August in Haut-Diois and Haut-Buëch.
In Drôme Provençale: Lavenders begin to hatch in mid June in Grignan and Tricastin areas and continue until mid-July in the highest areas (Vinsobres, Roche Saint-Secret).
From Baronnies to Buëch: lavenders blossom from late June in Buëch Valley and from the beginning of July in the highest areas (Laborel, Mouvillon).
Between Ventoux, Luberon and Lure: lavender flowers hatch in mid June around Apt. They continue until August 15 in Forcalquier and on the Albion plateau.
From Haute-Provence to Verdon: lavender flowers hatch in mid-June around Valensole and continue until mid-August in Digne or Haut-Verdon.
Préalpes d'Azur and Grasse region: mostly wild lavender (except Caussol Plateau).
Banon
One of our favorite villages in France is Banon. This village is located on the road from Malaucene to Forcalquier. This is a small but beautiful village. You can walk through the paths leading up to the church surrounded by ancient houses and stone walls and blooming flower gardens. From the side of the church, you can admire the village and the lavender and barley fields from above. If you are interested in art, then you can join drawing with the people in the village and visitors. Occasionally there are art exhibitions in the church if you are interested in visiting.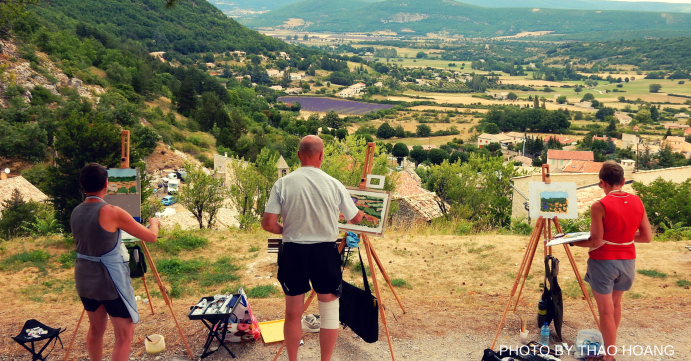 We were fortunate to be able to camp in the garden of an old woman, which was next to a lavender field. We wanted to wake up next to this beautiful flower field. Her husband just died the same year. They had come to Vietnam for doing charity many times before. She also invited us some apéro that evening and breakfast with her the next morning.
And when you come to Banon, you should try its famous cheese called Banon à la feuille if you are a fan of cheese! This cheese is an unpasteurized cheese made from goat's milk and circular, about 7 cm (2.8 in) in diameter, 2.5 cm in height (0.98 in) and weighing about 100 g. This pungent uncooked, unpressed cheese consists of a fine soft white pâte that is wrapped in chestnut leaves and tied with raffia prior to shipping. Not just having nice look but also delicious. Remember try it!