Before discussing about top ways to earn money from a blog, let's try to distinguish between: make money online (MMO) and to make money from a blog.
Make money online is a term used to describe all the ways you can make money online. It could be:
Blogging
Streamer
Making vlogs on YouTube
Online selling
Invest in virtual currencies
Drop-shipping
Become a virtual assistant (VA – Virtual Assistant)
Sign up for freelancing online (through sites like UpWork, Fiverr, etc.)
Open an online course
Making KOLs/influencers (usually through platforms like Instagram, Twitter, etc.)
Participating in paid surveys
Play online games (through sites that pay gamers, not every game that makes money)
And so on and on and on and on and on
Meanwhile, to make money from a blog is limited to certain things, and these sources all require you to have your own blog.
Note: Affiliate links may be used in this post. I may receive a small commission at no extra cost to you if you use my affiliate link. Full disclosure policy here.
7 ways to make money from a blog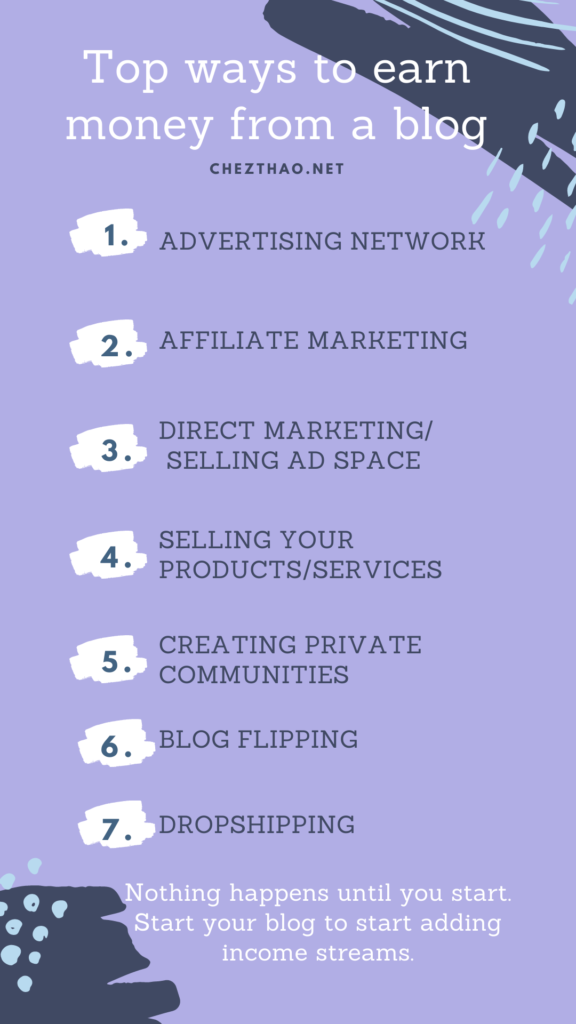 Advertising networks
Direct advertising/ Selling Ad Space
Affiliate marketing
Creating private communities
Sell ​​your own products or services
Blog flipping
Dropshipping
ADVERTISING NETWORK
This is the simplest way that bloggers can make money from a blog. As long as you meet certain conditions (usually the number of views), you can place ads automatically on your blog.
An advertising network pays you for displaying their ads to a certain number of people or for each click on their ad. These two terms are CPM (Cost Per Mille) and PPC/ CPC (Pay Per Click/ Cost Per Click).
With CPM, you're paid for every 1,000 times an ad is viewed on your site. A PPC advertisement can earn your blog some cents to several dollars each time an ad is clicked.
One note for you here, if you put a few ads, you won't make much money, but placing a lot of ads will easily make the blog confused, and the user experience will also be poor.
AFFILIATE MARKETING
Affiliate marketing is one of the keys for you to open the door to the world of making money online: making money passively! At this point, we have a new concept of passive income. Different from making money… active, passive earning is understood that you can still generate income even when you are sleeping!
There are a variety of earning methods from Affiliate marketing:
Pay for clicks
Pay for leads
Pay for sales
Sell digital products only
Sell information/courses only
Sell tangible products
Each of these can be used in any ways, and we can use combinations of methods to maximize our income. We can simply link to relevant products or services or directly recommend, use, or review things.
DIRECT MARKETING/ SELLING AD SPACE
This method is when a partner pays you to post about their company on your blog. It can be taken under many forms, such as:
Partners provide articles + links to the company's website, you can always post it on the blog or edit it accordingly.
Partner orders blogger to write a new post in line with the company's direction
Partners choose an existing blog post that matches the content they need to advertise, then you just need to add a few lines to mention the company + link to the company website
If you know how to do it + have a good network, then sponsored posts are a good source of income as well as affiliate marketing, but this is not passive income, so if you want to make money, you have to be diligent about writing articles.
SELLING YOUR PRODUCTS/SERVICES
Instead of advertising and selling other people's products (that is, affiliate marketing), bloggers can also sell your own products/services.
This way of making money is of course not quick as the above methods, that is, just putting the link in and waiting for time, but it takes a lot of time for bloggers to prepare for the setup and programming steps. studying, filming/recording, or as with tour services, every customer requests the timing according to their different schedules.
However, in the long run, this is the most profitable way to make money from a blog, especially in the segment of selling online services (courses, consulting services, etc.)
CREATING PRIVATE COMMUNITIES
Creating private communities of people who have the same mind is an excellent way to earn income while also getting content generated for you. It is simply setting up a forum, discussion board, or chat room. Bloggers can earn money from these communities by adding ads in their newsletters, running ads in the private space, or charging a small access fee.
Private communities can be set up on your own website and blog, or on easy pre-made services. Patreon is considered as one of the most popular private community options for many YouTube vloggers. This system allows the YouTuber to provide extra content and commentary along with their public video content, and people pay them for that private privilege.
BLOG FLIPPING
Blog flipping, in the simple way, is the form of buying an old blog at a cheap price, then renovating it in terms of content and form, attracting traffic, and generating some revenue from the blog , and then resell it at a higher price.
However, now the flipping blog market has also appeared a parallel form with a simpler method: Flipper invests in blogs from A to Z (from buying domain names, creating blogs, posting articles, selling… ) instead of acquiring an old blog as it was originally meant to be.
Regardless of the form, blog flipping is the niche that bring very good returns to investors, especially if you know how to invest wisely and strategically.
Flippa is one of the most popular platform for blog flipping.
DROPSHIPPING
Dropshipping help you sell a product without owning it. When someone buys a product from you, you order it, then have it shipped directly to them. You don't pay for the product until someone else buys it from you, you have the money and profit in hand before you even order it.
Conclusion
You can do it all without a blog, too but it will be so much harder to succeed. A blog helps establish your name and reputation, gives you an great platform for building traffic, fans, and followers, and gives you the greatest amount of control well into the future.
While similar things can be done with social media, make money from a blog is more authoritative and longer lasting, potentially going on to continue generating income many years into the future.
Nothing happens until you start. Start your blog to start adding income streams.