Literally bún riêu cua, means a slightly sour (riêu) and crab (cua) rice vermicelli soup (bún). The crab incorporated in this soup can be freshwater crab, rice field crab or gray crab!
As usual, in the north of Vietnam the soup is more sober: only the addition of fermented rice juice gives it a slightly more acid taste. In the south, by tradition, abundance is the order of the day! Between the rice vermicelli, the crab meat, the tomato quarters […], the ground pork, cubes of boiled pork blood… In short, the list is even longer, we let you skip the details.
The longest preparation of this dish is the meat of crabs, but nowadays, this paste is already ready-made, in the form of a glass container or stock cubes sold in Asian grocery stores and supermarkets.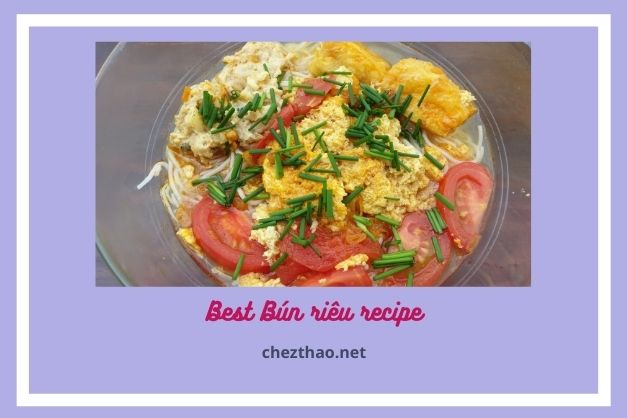 How to make bún riêu?
This is one of my favorite dish and it was adapted to meet the ingredients I have in France.
2 tomatoes cut into wedges
3 tomatoes cut into cubes
2 eggs beaten
200 g pork minced
1 can minced crab in spices
1 tbsp tamarind
1 tsp shrimp paste
1,5 tsp salt
fish sauce to taste
1/2 tsp sugar
400 g thin rice noodle
2 shallots cut into slices
1 bunch spring onion chopped
Pork blood cooked and cut into cubes
Fried tofu cubes
Salad and mint
In a large bowl, crack the 2 eggs and beat well. Then add 2/3 can of minced crab in spices and the minced pork and mix well.
In a soup pot, fry sliced shallots with some cooking oil till fragrant. Add the the rest of the minced crab and tomato cubes. Stir well, cook until the tomatoes get soft. Then add 1,5 liter boiling water.
Add 1 tsp shrimp paste, 1,5 tsp salt, 1/2 tsp sugar and 1 tbsp tamarind. Turn to low heat.
Scoop the crab meat mixture into the soup pot when the soup gets still. The meat is cooked when they float to the surface.
Add tofu and pork blood cubes then add fish sauce to your taste.
To cook the noodles, bring a large saucepan of water to a boil. Add 1 tsp salt and the noodles. Follow the package instructions to cook. Drain the noodles in a strainer and rinse again with cold water. Then rinse one more time with hot water.
Add wedges of tomato into the soup before serving.
To display the dish, place a handful of noodles in a bowl, add tofu and meat then ladle the soup over. Top with some chopped spring onion. Served with salad and mint.
Let try my other recipes!