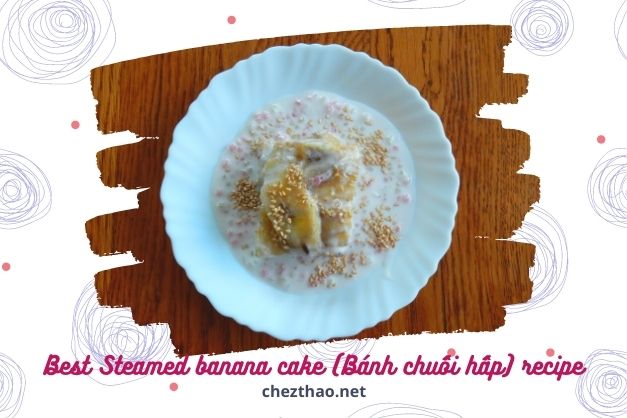 Originally from southern Vietnam, banana cake is one of the very popular variations of Vietnamese sweets in the banana.
This delicious cake is part of Vietnamese family recipes and is often found in restaurant menus. This is a cake that has exported very well thanks to the ingredients easy to find in the West.
Certainly, the variety of bananas changes, canned coconut milk is thicker than that extracted from homemade grated coconut pulp, and the way of cooking in Vietnam is a little different. However, we find more or less the same taste and the same texture very popular with Vietnamese: a soft cake (a kind of pudding) with the good taste of banana flavored with coconut. As a bonus, it's an easy treat to make.
Steamed banana cake recipe
6 bananas riped
150 gram tapioca flour
50 gram brown sugar
1/4 tsp vanilla powder
1/4 tsp yellow food coloring powder (optional)
100 ml water
For the sauce
50 gram white sugar
1/4 tsp salt
2 tsp tapioca flour
400 ml coconut milk
50 ml water
10 gram tapioca pearls
Roasted sesame seeds or peanuts (crushed)
Making the cake
Peel the bananas, smash 4 of them using a soup spoon, cut the 2 left into round slices
Mix well until combined the mashed banana with 150g tapioca flour, 50g brown sugar, 1/4 tsp vanilla extract, 1/4 tsp yellow food coloring powder and 100ml water
Brush oil over the bottom and sides of the cake pan
Put one layer of round sliced banana in the pan
Pour the batter on top of the sliced banana layer
Put another sliced banana on top of the batter
Steam the batter for 20 minutes on medium-high heat
Let the cake cool down
Making the sauce
Soak the tapioca pearls in water for 30 minutes and then drain out the water
Mix well until dissolved 400ml coconut milk with 2 tsp of tapioca flour, 50g white sugar, 1/4 tsp of salt and all the tapioca pearls
Cook on low heat until the tapioca pearls turn transparent
Let the mixture cool down
Serving
Remove the cake from the pan
Cut the cake into square or diamond shapes
Place the cake on a dessert dish
Top with some sauce and sprinkle some roasted sesame seeds or crushed peanuts
You can use maple syrup or maple sugar instead of brown or white sugar.
The banana should be as ripe as possible. The best is that the bananas have some black spots on the skin.
You will need a steamer for this recipe.
Let try our other dessert recipes!