Yogurt was first introduced in Vietnam by French colonists and its popularity has grown a lot since then. While in Vietnam, I got to try Vietnamese yogurt in many different cities and even on the airplane. Vietnamese has the best yogurt recipe.
It is different from the Western one variety due to the addition of condensed milk, which was more readily available than fresh milk. This added sweetness from the condensed milk complements the tangy flavor of the yogurt. While frozen Vietnamese yogurt is also available, I prefer this non-frozen version because it's easy to make and you can make them ahead of time, refrigerate your jars, and eat them throughout the week.
Note: Affiliate links may be used in this post. I may receive a small commission at no extra cost to you if you use my affiliate link. Full disclosure policy here.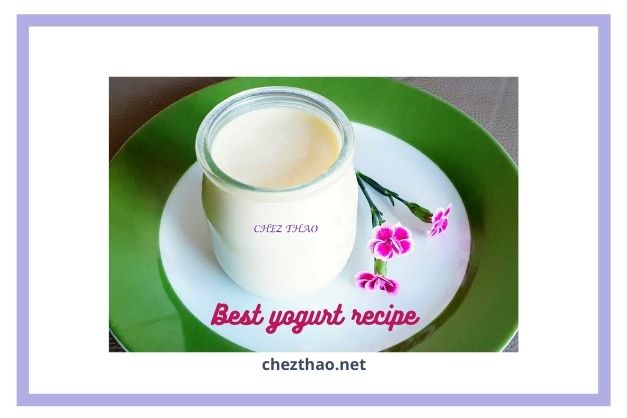 What include in this best yogurt recipe?
1 can condensed milk (396g)
1 box fresh cream or cream cheese (225g)
2 boxes plain yogurts
2 cans hot water (used the can of condensed milk)
3 cans milk (used the can of condensed milk)
Yogurt containers. We can have 16 boxes of yogurts (100g/box) with these ingredients.
Sterilized all the tools and containers used
Fresh cream/ cream cheese and yogurts should get the room temperature before used
Mix condensed milk with fresh cream/cream cheese until the mixture gets smooth
Add hot water, milk and mix well
Add plain yogurts and mix well again
Divide the mixture into boxes which are well dried
If you used a multi-cooker then put all the yogurt boxes into the pot and set the yogurt program.For a traditional way, put all the yogurt boxes into a pot, add water (1/3 cold water +2/3 hot water or at 60 degree) at the level of 2/3 the yogurt boxes. Put the lid on the pot. Cover the pot with a big blanket. Make sure that the blanket can cover the pot well to keep the warmth.
After 6 to 8 hours, put the yogurt boxes in the fridge for 3 hour before serving.
I've used the multi-cooker from Ninja.
Let try our other dessert recipes!