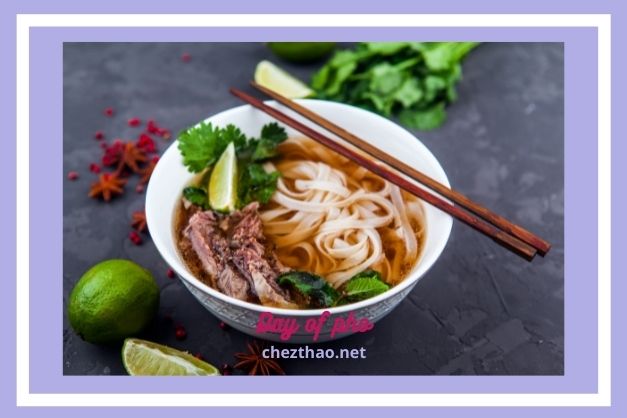 Tuoi Tre (Youth), one of the leading newspapers in Vietnam, has officially registered December 12 as 'Day of Pho' as a way to celebrate the iconic Vietnamese cuisine that has won-over diners worldwide.
The decision was announced on Tuesday by Le The Chu, Editor-in-Chief of Tuoi Tre, as he addressed a crowd of hundreds who had gathered at the White Palace convention center in Ho Chi Minh City to celebrate the first-ever Pho Day.
The event, co-sponsored by Tuoi Tre and Japanese-invested instant noodle maker Acecook, treated visitors to a history of the dish and everything one needs to know about making pho as well as the dish's significance in Vietnamese culture.
Tuoi Tre has made an official proposal to relevant authorities to recognize December 12 as the 'Day of Pho,' according to the editor-in-chief. At Tuesday's event, the newspaper was granted the certificate of intellectual property over the logo of the event, which reads "Ngày của Phở" in Vietnamese and "Day of Phở" in English.
Though debates rage on the 'correct' way of enjoying pho, a typical bowl should consist of broth, rice noodles, herbs and meat, primarily made of beef or chicken, served steaming hot and eaten with chopsticks.
Widely believed to have originated in the early 20th century in northern Vietnam, pho has since been popularized throughout the country and the rest of the world thanks to its crowd-pleasing taste and superior nutritious value.
At Tuesday's event, a gallery walk themed 'The Journey of Pho' offered visitors a brief look at the history of the iconic Vietnamese soup since its inception and subsequent spread across Vietnam and the world.
Chefs from the country's most famous pho houses were invited to cook in different styles for visitors to enjoy for free.
Over 2,000 bowls of pho were served during the event, with both seasoned pho eaters and first-timers praising the irresistible taste of the cuisine.
Nicki, a UK national from Brighton, England, said she had never tasted such a delicious pho her whole life despite living close to five pho restaurants in her hometown.
"I love Vietnamese pho"
It has become a habit for Kajiwara Junichi, general director of Acecook Vietnam, to break the ice with his Vietnamese business partners and friends by exclaiming his passion for pho.
"I love Vietnamese pho," the Acecook executive told us as he began recalling the company's decades-long relationship with Vietnamese rice and its products.
When Junichi first came to Vietnam in 1993 to launch Acecook, the company's first product two years later was instant pho made from wheat flour.
Having since grown into a major food manufacturer in Vietnam, Acecook has never lost its interest in pho nor stopped exploring new technologies to produce instant products that can retain the essence of the delicacy.
Junichi's tireless work paid off in 2006, when Acecook finally managed to produce instant pho from rice flour, transforming its flavor into the closest it had ever been to traditional pho.
"When you export rice as rice, there is no added value, but if you export a rice-derived product such as pho noodles, the value can be increased by three to five times," Junichi said.
According to the general director, Acecook's instant pho products are now exported to 42 countries all over the world, accounting for ten percent of the company's total exports.
Each year the firm uses 20,000 metric tons of Vietnamese rice to produce a range of food products, with combined revenue of VND1.5 trillion (US$66.08 million) in 2017.
Beyond pho
Nguyen Quoc Ky, chairman of the Vietnam Cuisine Culture Association, said that despite the country being among world's leading rice exporters, the value of Vietnamese rice had yet to be fully recognized and invested accordingly.
An official survey of six foreign countries with high Vietnamese populations found that over 1,600 Vietnamese restaurants were in operation, most of which sell pho.
Unofficial statistics claim there to be over 10,000 Vietnamese restaurants worldwide, Ky said, highlighting the increasing popularity of Vietnamese cuisine and pho.
"With such an extensive network of restaurants, the value of Vietnamese rice would be tremendous if we knew how to invest in it properly," he concluded.
Phan Ton Tinh Hai, a respected Vietnamese chef and culinary expert who was part of the panel of judges for televised cooking show MasterChef Vietnam, attributed pho's worldwide popularity to its adaptability to different cultures and cooking styles.
"I have cooked and taught many foreigners to cook pho," she said. "Everybody can make a delicious pho if you put your heart into it. Each bowl of pho is a story and a history of its own."
Check out our other cuisine culture!