Chè Trôi Nước – Sticky Rice Dumplings with Caramel Ginger Syrup is a very popular type of dessert that you can find easier daily in the south of Vietnam. I really like this dessert because of the balanced combination of the dumplings with the sweet caramel and the fresh ginger.
These dumplings are easy to make and even more fun if you do it with your kids.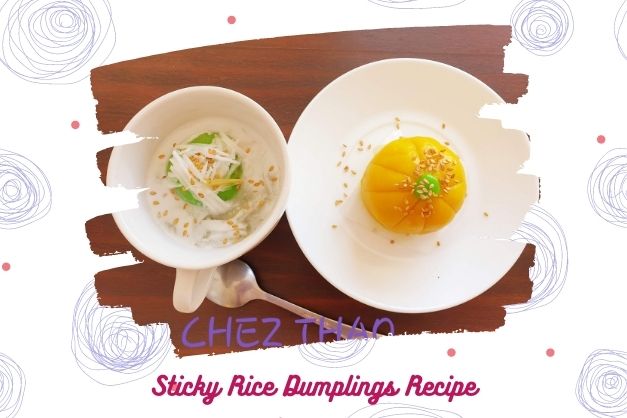 How to make chè trôi nước?
For the filling:
250 g dry mung beans, soaked in water about 4 hours
20 ml coconut milk
1/2 tsp salt
20 g sugar
For the dough:
400 g sticky rice flour
200 g mashed steamed white sweet potato
350 ml warm water (depend on the type of flour then you can adjust the amount of water accordingly)
Pandan leaf food coloring
For the sauce:
150 g rock sugar (depend on your taste then you can add the amount of sugar accordingly)
1 l water
4 pandan leaves
20 g thin sliced ginger
For serving:
white sesame seeds
1 can coconut milk
For the filling:
Steam the mung beans until tender
While they are still hot, mash them. Then add salt, sugar and coconut milk and blend
Divide the mashed mung bean into 20 portions and form them into round balls
For the dough:
Combine the flour and 200ml warm water in a mixing bowl
Add smashed steamed sweet potato and the rest of water then knead the mixture until the dough gets smooth
Make 20 balls with the same size of the filling
Flatten each dough ball and place a mung bean ball in the center and enclose with the entire filling. Gently roll the dumpling between the palms of your hands until you have a smooth, crease-less surface. Repeat with the rest of the balls.
With the leftover white dough, make smaller balls without filling
Boil the dumplings. Once the dumplings rise to the top, carefully transfer them to a bowl with cold water.Or steam the dumplings for 20 minutes if you don't want to eat them with the sauce.
For the sauce:
Boil water, ginger and rock sugar until the sugar all melted
Transfer all the dumplings from the cold water bowl to the sauce then add ginger and pandan leaves and simmer in low heat about 10 minutes
Serving:
Serve one filling dumping and some small ones in a plate or small bowl along with the sauce
Fill the top with coconut milk and sesame seeds and even ginger in your preference
This can be served warm or chilled
You can find our other dessert recipes here!