Some people told me that they confused between blog vs website. When do we say it's a blog and when do we call it a website? So here are the differences between blog vs website.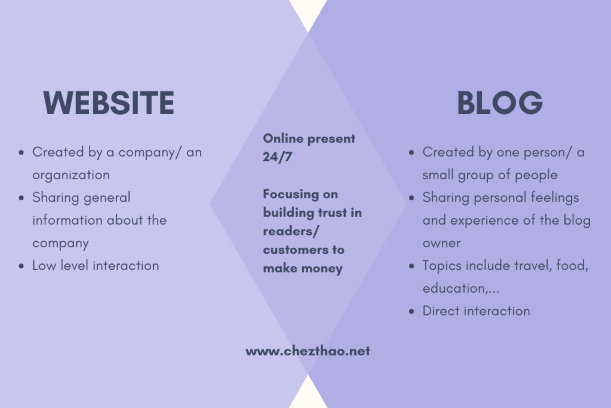 A website
A website is created by a company or an organization to share their general information. The readers can only contact the company website at a low level as the website owner usually can't reply comments or exchange email back and forth with readers.
A blog
Technically, a blog is a website but what make it different from a website are: It is created by a person or a small group of people to share their personal feelings and experience. The shared topics include travelling, food, lifestyle,… Bloggers often don't mind using real Facebook to interact with readers, and interactions are at a 1:1 level. Therefore, when reading blogs, readers will also feel closer, easier to connect with the writer
Despite those differences, both of them have some point in common.
Common things of Blog vs website
They both present online to serve their readers 24/7. They both focus on building trust and prestige in their readers in order to earn money.
You may make a question that companies can sell their products and services to their customers to earn money but what do bloggers do to earn money? You can figure this mystery here.
Or need a free support setting up a website? Find out more information here!