Thanks to the Ribambelle Soup Festival in the regional where I live, I accidentally discovered the most delicious chestnut soup recipe.
One of my activities after moving to France is joining the contest of the Ribambelle Soup Festival. This event is organized by the association Vedene Rando and Paroissiale. There are different towns joining this contest. Each town will send their king or queen of soup to the final round. The king or queen of soup of each town is the person who wins most favorite of the judges prize in the contest in their town.
I hadn't won the first time I join the contest with my Bo kho soup. But this time I won with the soup of chestnut to represent Morières-lès-Avignon, where I live, to compete other towns at the final round. I decided to make the chestnut soup because this year I went to collect chestnuts and I love them. And it's a great soup for winter. And I was lucky enough to get a very delicious recipe from the boss of my husband, who is from Ardèche. I did some adjustments to my taste actually because I thought his recipe was too creamy. This was my very first time of cooking a French dish and it turned out great.
Even I didn't win at the final round but a lot of people loved my soup and asked for the recipe and some photos of these fun events.
How to make this delicious chestnut soup?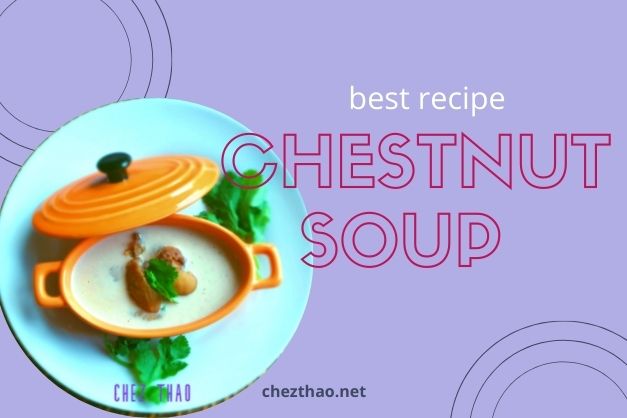 2 cans whole peeled chestnuts, dry ( 510g each can)
1,5 l vegetable broth
6 celery leaves (not too many as this will make the taste too strong)
1 l whole cream
Nutmeg powder
Salt
Pepper
Add the chestnuts (reserve chestnuts before serving if you want to eat the soup with pieces), celery, salt and pepper to the broth and cook over low heat for 1 hour.
Add the cream and nutmeg then continue cooking over low heat for 30 minutes
Adjust the seasoning before mixing the soup
Serve the soup hot
Check out our other delicious recipes!