The same day two years ago we were in Ta Nang – Phan Dung. At that time trekking Ta Nang – Phan Dung was very trendy so we also wanted to try. That was my first self-organized trekking trip. Besides enjoying the beautiful scenery like other people said, we also had great unforgettable memories with good local people in Phan Dung.
Trekking time in Ta Nang
I heard that this was the most beautiful trekking trail in Vietnam but it was difficult and we needed to have good physical strength, so we had thoroughly researched and prepared all the necessary information for this trip. When boarding the car, we told the driver that we wanted to get off at Ta Hine fork. Actually, neither the driver nor the driver assistant knew where Ta Hine Fork was. But when we told them that was the place to go to Dai Ninh lake, they knew it. At 4:30 am when we were asleep, the driver woke us up because we arrived. We got off a dark and empty junction so we didn't see anybody to ask for direction. But just a bit later a few motor-taxi drivers came and asked us where we wanted to go and drove us there. On the way we went through Dai Ninh lake. The scene here was beautiful in the early morning but because the sun was not up yet so we could not capture any pictures of it. The two men rode motor-taxi on the highway so they were not good at finding the way in small villages to go to Toa Cat village, Da Quyn commune. We had to spend quite a lot of time doing that. But finally we arrived. My friends were so hungry that we went to a cafe for breakfast and coffee. I also had a short nap because there were some hammocks. And my friend talked with the shop owners and guests who came there to have breakfast. They saw that my friend was a foreigner but could speak Vietnamese very well so they started discussing with him .When there was full light, we started our trip.
As what other people described, we would have to pass a house with a big bougainvillea tree at the front yard. And it was true that we passed that house surrounded by green lawns. That scene really looked poetic. A large bougainvillea tree, full of flowers and covering the front yard of the house. I had never seen such a big and beautiful bougainvillea tree like that.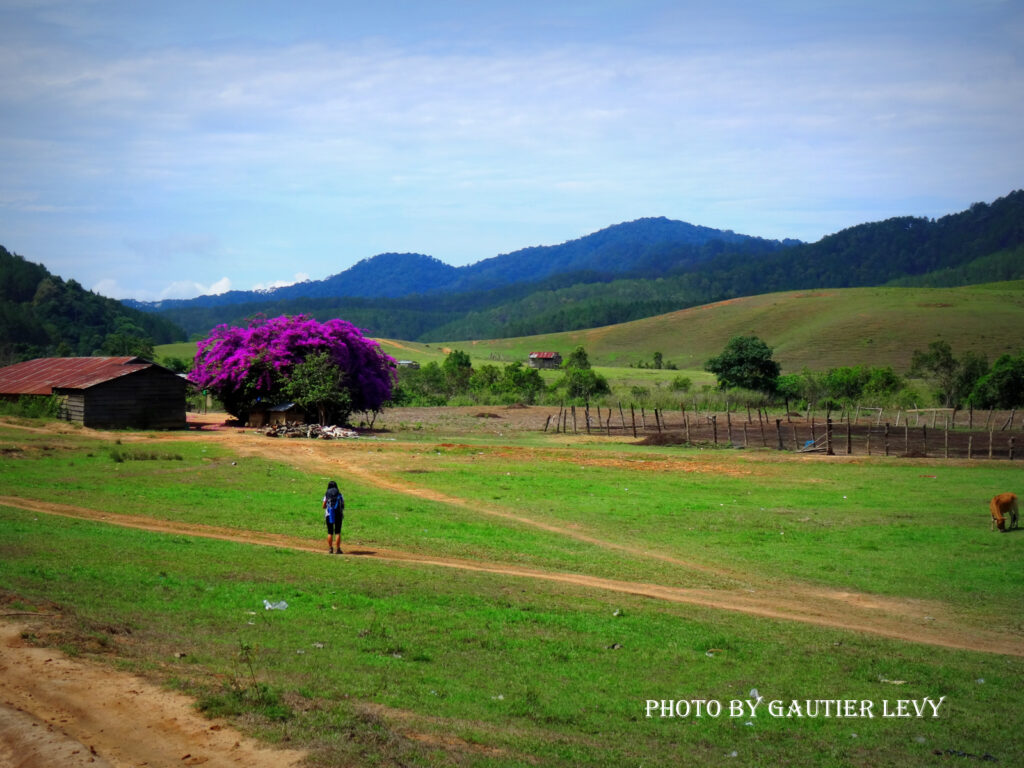 Along the way, we also met strong ethnic people who drove special motorcycles carrying wood through reddle, steep, sloping, winding roads. There was a man with a swollen leg in the group. He still had to work. I felt so pity for him.
We also went through a forest with a lot of flowers and butterflies. But one thing that made me quite sad was there was a lot of rubbish here and along the way which made the scene less beautiful. After this forest we could see hills connected successively and there were low grass instead of tall trees. And after that there were high steeps connected successively again. Just by this time, I knew why I had to prepare well for this trip. However, I forgot all that hard work while enjoying the beautiful scenery here. We chose the nicest place to have lunch before continuing.

However, after we continued walking for a while, it began to rain. We wore raincoats and went on. The rain was small at first but then slightly harder. We decided to stop at a hill to camp when the rain started to reduce. After a while the rain stopped. Then rays of the sun came out through the fog over the hills. We made the tent and had dinner while watching sunset.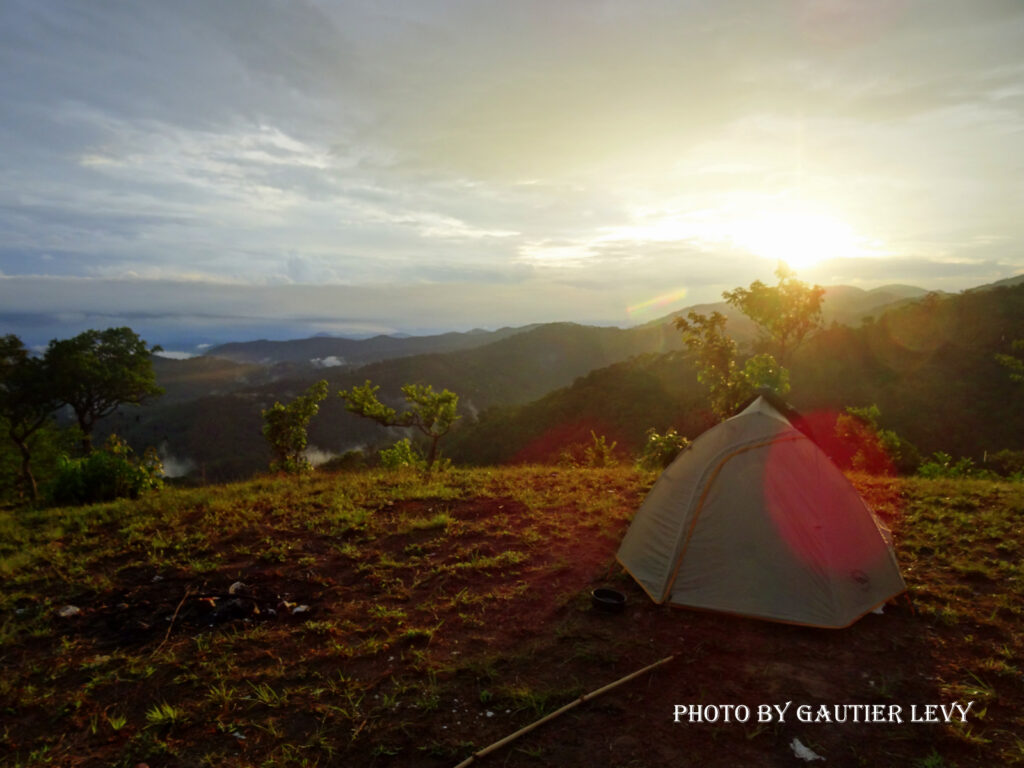 Because I was so tired that night; therefore, even there was a loud sound of insects creaking, I still could sleep very well. Maybe because I could sleep well the night before so I could wake up early to watch the sunrise the next morning. From the tent door we had such beautiful sunrise view.
We also cooked water to make coffee and sticky rice to eat with pork flossed. Such a full breakfast to prepare for continuing the trip.
The next part of the trip was just tired at first and better later but easier to get lost because there was a segment with many turns and there was no 3G to check where to go but we had our compass and had researched carefully about this place before going so we did not get lost.
We also went along a cool stream and also swam a bit in there.The part after was trails surrounded by scattered forest, grass and shrubs. Occasionally there were people living and grazing livestock here. And also at this section, it began to rain. We still wore our raincoats to keep going. When we came to a big road going through the forest, the rain also started to stop. But at that time, we and our stuff were totally wet. We met a man going to his farm and he offered to bring us down to the village.
Beautiful experience with local people
We sat down and ate instant noodles in a grocery store in the village. When first arriving in the village, I had to say wow such a cute place. The animals were free to run around in the village. There was a pig which kept following us around.
It was late in the evening but there were no guesthouses in the village so we asked if we could pay for a bath because we were wet and full of mud. The daughter of the grocery store took us to her sister-in-law's house for a bath. But then the family did not take our money and invited us to stay that night and have dinner with them.
The family had an old woman and her daughter's family. Her daughter had two children, one boy and one girl and she was pregnant. Husband was working. Everybody in the family was sweet and kind. After we finished dinner, her son came with his daughter. His name was Duong. He was fun and eager to learn. He asked us to show him some more English because he wanted to communicate with foreigners better. When we arrived in Saigon later, we also sent him a set of English books and discs for him to practise more. Thanks to our stay that night, we had an unforgettable memory. That night the whole village went to the forest to catch oc eo to sell. This was a specialty of the area. I don't know if you know what it was but I had never heard of that before. Oc eo was a frog-like species but it lived in niches in the forest. They only ate insects and went out of the niches in the first one or two showers of the rainy season. And the rain we had in the forest was the first rain of the rainy season so that night there would be a lot of oc eo. We were so tired that we did not follow the local people to the forest. But before leaving, Duong told us that when he came back, we would have a drink with that specialty. And just as he said. About 9pm he came home and prepared the food. No cumbersome, he took some oc eo braised in a pot of boiling water for 30 seconds and then removed them. He also made some tamarind sauce with chili. So he and my friend started their fest. I was sleeping so I didn't join them. But my friend told me that it was interesting.
The next morning, we were going to leave early but everyone kept us stay for lunch. So we stayed a little longer. That day was the election day so everyone was dressed up to vote. When Duong returned, everyone started to cook. That day, beside the oc eo braised in boiling water for 30 seconds, there was also oc eo stir-fried with lemongrass and chilli. Actually looking at it was a bit scary but if you could eat it then you would love it. Oc eo meat was sweet and tougher than frog meat. And we could eat their soft skin too. Apart from their family members, some neighbors also came to join drinking with the men. We had very fun conversations.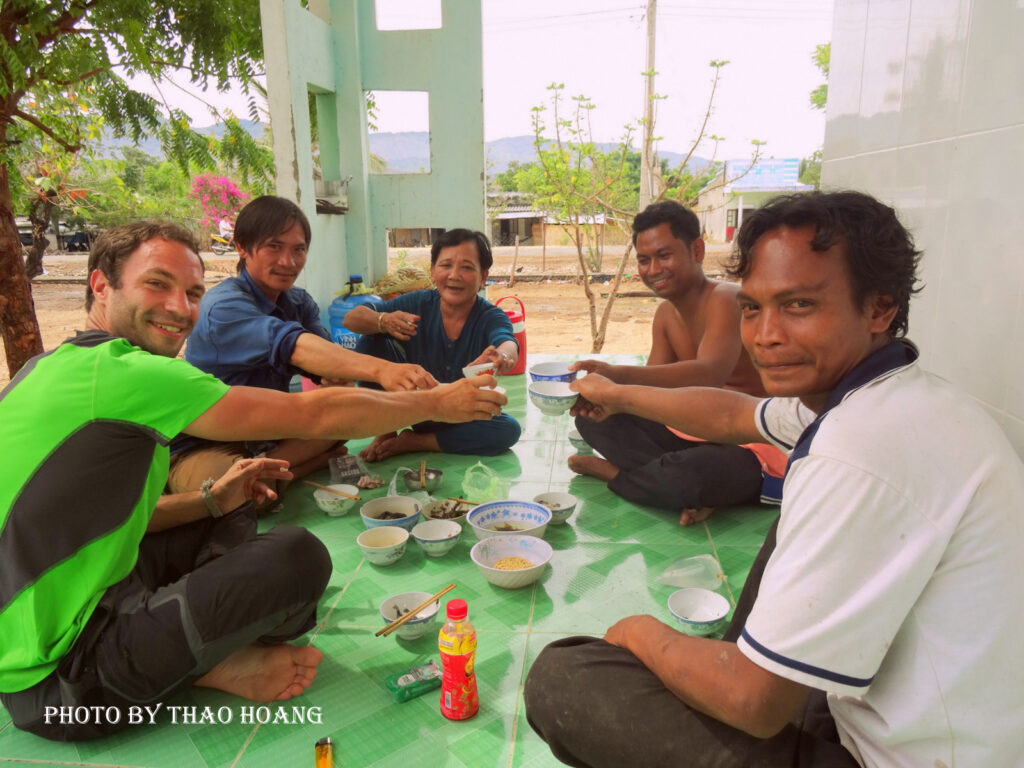 About 1pm, we had to say goodbye to them to go to Lien Huong to catch the bus. We wanted to send the family some money but everyone refused. The family also sent two boys to take us to Lien Huong by motorcycles. We really appreciated the warmth of Duong's family, especially his mother. They were very poor but rich in kindness, hospitality and generosity.
Thanks to the experience with his family, our trip was much more meaningful. Thank you Duong and your family again.