Have you ever heard of the Gorges de l'Ardèche? This canyon is a nature reserve that was preserved in 1980, covering 1,575 hectares. The Ardèche River is 22km long, winding around the canyon. There is an abundance of flora and fauna in the reserve as well as over a thousand different animal species.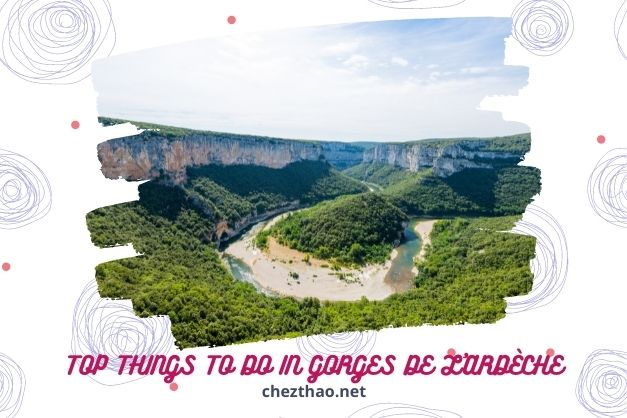 This natural and cultural heritage is one of the most remarkable places in France and also a tourist attraction of the Ardèche region known throughout the world. These hollow canyons dug into the limestone plateau between Vallon Pont d'Arc and Saint-Martin d'Ardèche. On the way from Vallon Pont d'Arc to Saint-Martin d'Ardèche, you can drive along the canyons to watch the scenery from above.
Day 1 in Gorges de l'Ardèche
Instead of traveling by car, we started hiking from Bidon to Vallon Pont d'Arc, passing through immaculate lavender fields, French-made stone houses, rocky roads on imposing cliffs and the poetic riverside roads.
Vallon Pont d'Arc
The moment we got tired was when we arrived at Vallon Pont d'Arc. This was a masterpiece of nature, a beautiful 66m high natural stone arch created by the Ardèche river. Looking down from above, from the bottom, from the front or from behind, Vallon Pont d'Arc had the same beauty. In spring and summer many tourists made their visit and participate in popular activities such as kayaking, canoeing and hiking.At both sides of the bridge, there were wide sandy river banks. You could go picnic with your family or swimming, even if the water was quite cold.
About 7.30pm there were no more tourists here. In late spring, it was at 9pm that the sun goes down so we had dinner while enjoying the calmness of this place.
Day 2 in Gorges de l'Ardèche
The next morning we walked to the sandy bank behind the bridge. When we arrived, only a few people were preparing to go kayaking but about 9am, tourists started to rush here. The car park across the road was very wide but was just totally packed. Because my foot was blistered and I could not walk much so we continued by car. Fortunately, thanks to travelling by car that we had the opportunity to view the gorge from above. Along the way there were many stops to enjoy the views and take pictures of this majestic natural beauty. On the way there were warning signs of wild animals running across the road. We came across the mountain goats running wildly and all the cars had to stop to let them run through.
Visiting a lamas farm
On this occasion we also had a chance to visit a lamas farm. This was the first time we have seen lamas so we were very excited, especially my friend Bhawana.
There were about 150 lamas in this farm. The female ones were free raised and could mingle around with tourists. But the males were kept separately in a different zone because they usually fought with one another. Among these lamas there was an alpaga. Lamas and alpacas were of the same species, but alpacas were used for furry because they had more fur than lamas. Lamas was more precious because the blood of lamas was being tested to make breast cancer drugs. On this farm there was a lamas that got a lot of medals because its blood had been being used for testing cancer medicines.
Some lamas are very harmonious. If you stand for taking photos, they would walk around and rub their faces against your face and back to make friends. We had good laughs by looking at some lamas. The teeth of the lamas kept growing so they looked like they were always smiling cheerfully. If you go with your children then surely they would have a very memorable experience with these lamas.
Saint-Martin d'Ardèche
After leaving the Lamas farm, we continued our journey to Saint-Martin d'Ardèche. At 5pm we arrived at Saint-Martin d'Ardèche, a small but very crowded touristy village. I will give you a list of other places to visit in Ardèche below, including from Vallon Pont d'Arc to Saint-Martin d'Ardèche below.
We walked along the river bank below the gorge. The river with clear waters and fish, after having crossed the natural reserve of the gorges of the Ardèche during 30 kms, offered splendid sandy beaches, creeks, cliffs… The weather was very nice so there were many tourists enjoying the warm sunshine on the river bank, kayaking or swimming in the river. Along the banks of the river were sandy beaches intermingled with large rock beds which were sometimes rugged, sometimes flat. You could sunbathe or picnic with friends and relatives here. After walking a long way, we finally found a place for resting.
Because of walking too much and the weather was too hot, we decided to go swimming. At first I was skeptical about my decision of going swimming because of the ice-cold water. But I was determined to jump into the cold water. Not like what I had imagined, after soaking in the water for a while, I got used to the cold and started to feel comfortable and enjoyed it. The water there was crystal clear, we could see fish swimming below. Water levels near the shore was quite shallow, but the rocks below were quite slippery so we had to be very careful. As I said, the water here was very cold so we took advantage of it to get our wine fresh.
And that day, we had another great dinner with the birds and insect singing below the gorge. Because of opposite the place where we had dinner, there is a cliff wall so it made the birds and insects singing echo.
This region of Ardèche is a famous tourist region in France so there are many gîtes and camping sites. You would be spoiled for choice. But you should also take into account that in the peak season (late spring to end of summer) it may be difficult to find a place so you need to make reservation in advance! And one thing you should also notice, that is the price of accommodations and kayaking or canoeing activities here is quite expensive.The early morning at the gorge was great. Birds and insects were still sleeping so the place was peaceful. But unfortunately, we had to leave Saint-Martin d'Ardèche and say goodbye to Ardèche that morning.
Ardèche has countless beautiful places to visit and recreational activities to participate. But this time we did not have much time so we couldn't visit many places. Hope we can explore more next time. See you again Ardèche!
In order to have a more vigorously glance about our journey, please take a look at the video tour in Ardèche: