So you've decided to start a food blog? This seven-step approach to start a food blog successfully will help you get your site up and running straight away.
Note: Affiliate links may be used in this post. I may receive a small commission at no extra cost to you if you use my affiliate link. Full disclosure policy here.
Since 2017, I've been blogging in some form or another, and Chez Thao and Mẹ & Na are two of the finest blogs I've ever made.
It is, however, a great deal of work. I used to roll my eyes at bloggers who complained about how much labor it was, but growing a great food blog takes a lot of time, effort, and patience.
I didn't start getting serious about building the two blogs above until the beginning of 2021. I've had to learn a lot of things the hard way. As a result, I'm starting a new food blogger resource blog series to help you avoid the same mistakes I did and get your food blog off to a good start. If you want to start a food blog, you need start from the beginning by ensuring that your site is set up for success. While there are many tiny details to learn along the way in your food blogging adventure, there are just seven basic steps to follow to start a food blog of your dreams.
Are you ready to discover how to start a food blog successfully? Let's get started!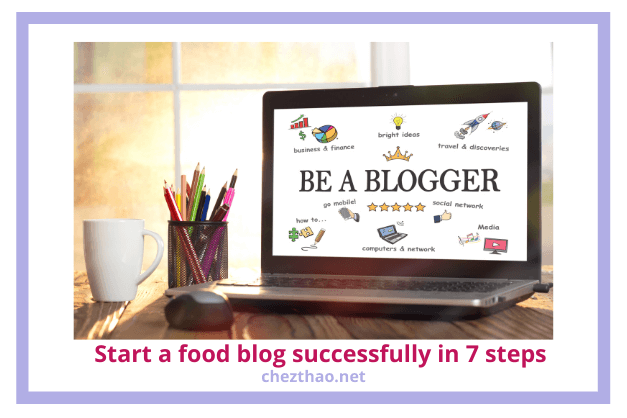 STEP ONE: Select a safe web server to start a food blog
Finding a website host,to start a food blog.
Many website providers, such as Squarespace and Wix, offer all-in-one hosting, support, and design, but if your end aim is to start your food blog for success from the start — with the purpose of monetizing it one day — I highly recommend starting with a self-hosted WordPress site.
You must first pick a website host before you can start a self-hosted food blog. There are a lot of hosts out there, but just a handful that food bloggers use and trust, and these are the ones I recommend:
I recommend it for genuine beginners since it's quick to set up and inexpensive, which is crucial when you're just getting started and don't have any money coming in.
Incredible service. Offers wide range of services, site speed is super-fast and what is most important for me, support is very quick knowledgeable and helpful.
Bluehost is a good website host, and it's what I've been using for my sites.
A step-by-step guide to setting up your Bluehost hosting here.
STEP TWO: Choose a domain name for your food blog and register it.
The next step is to pick a domain name for your food blog and register it. The following are the three steps to choose a domain name:
Make it simple to comprehend.
Check to see whether it accurately defines the sort of material you'll be producing (without pigeon-holing yourself into just one topic)
Pick a name that hasn't been taken by any other blogs or businesses (check copyright)
Check to see whether the social media handles are active.
With today's crowded market of blogs and social media handles, this might be difficult, so my advice is to sit down and discuss and explore food blog titles.
How to come up with blog titles for food
Consider the sort of material you want to create. Is your blog focused on a particular cuisine, meal, or dietary preference? Try to incorporate such terms in the title because they'll be excellent keywords for your future audience.
Alternatively, consider how you want your visitors to feel when they visit your website. A snappy euphemism or phrase is also effective since it is easy to recall. Make a list of names and see whether they're available.
Check to see whether the names are taken on social networking platforms like Instagram, Facebook, and Pinterest.
Then contact your webhost to see whether the domain name you want is available (Namecheap has a great domain name search).
My experience: Getting a good.com name these days is quite difficult, so when I chose to call my site Chez Thao, I had to settle for a .net.
Register a domain name.
Register your domain with your website once you've decided on a name. It is possible to transfer your domain name from another host, but you may also just redirect your domain name to your website host server (both Bluehost and HostArmada have instructions for how to do this or you can contact support).
STEP 3: Set up WordPress as your food blog's content management system (CMS).
The next step is to set up WordPress as your culinary blog's content management system.
You will enter and arrange your material in WordPress, not your website server, and you will log in to make updates to your site directly in WordPress.
WordPress may be installed directly on your website server by following these steps:
Choose "Get WordPress pre-installed on this account" from the Bluehost drop-down menu. That's all! Just fill in your details.
STEP 4: Pick a food blog theme (the look and feel of your website).
After you've set up WordPress, you'll need to create a food blog design for your site, which is known as a WordPress "theme."
Although WordPress comes with a plethora of free themes, I strongly advise starting with a premium food blog theme designed exclusively for food writers. Here are some of my suggestions:
17th Avenue Designs: I have used and suggest the Mia theme and the Vivienne theme.
Blossom Themes: I have used and suggest the Cookery theme and Blossom Recipe Pro theme.
STEP 5: Add further functionality to your food blog by installing plug-ins.
Installing plug-ins, which are simple "add-ons" that offer your site more functionality and make your postings easier to read, search, and share, is the next step in setting up your food blog.
Plugins may be really beneficial, and some are even necessary for food blogging success, but the most essential thing to remember about them is that less is more.
Use the ones you need, but don't go plugin crazy. Plugins slow down your site and, if not updated on a regular basis, can interfere with site functioning and even damage it (as I've experienced).
Install a dependable recipe plugin.
The first step in ensuring that the material you put so much effort into reaches your visitors is to select a high-quality recipe plugin.
A recipe plugin can do a variety of tasks, including:
Allows Google to find and index your recipes. When you enter your recipe material into a good recipe plugin, it turns all of the data into a format that Google can understand. This means that Google will be able to read and index (rank) your recipe so that anyone searching for recipes may discover it.
Allows users to read and print the recipe with ease. The second reason a recipe plugin is crucial is that it makes it simple for your reader to read and print the recipe card. I can see that hundreds of people print my recipes each month, so I know that this is a beneficial function. You may also put nutrition information in recipe cards, which Google appreciates and makes your recipes more relevant to readers.
Which recipe plugins should I use?
WP Tasty Recipes, WP Recipe Maker, and Create by Mediavine are the three plugins I suggest.
STEP 6: Create and link an email service provider
Most "how to blog" guides will skip over signing up for an email service provider as a necessary step in establishing a food blog, but because I'm writing this to help you avoid making the same error I did by not starting an email list sooner, I strongly advise you to do so right now.
The main reason for collecting email addresses is to build a community around your blog and speak directly to your readers. Email marketing is a beast of a topic that I'm still exploring, but the main reason for collecting email addresses is to build a community around your blog and speak directly to your readers.
Building an email list is important because, unlike your social media followers, you control your email list. Whether it's notifying them when new posts go up or providing them free resources you've made (like my free meal planning guide! ), you own your email list.
So, no matter what happens to the Instagram or Facebook algorithms, you'll always have your list of genuine followers with whom you can communicate personally.
I propose the following email service providers (ESPs):
Many ESPs exist, like Convertkit, ActiveCompaign, and Mailchimp, but I favor Mailchimp.
Mailchimp offers a free account with up to 2500 subscribers, is easy to use, and has attractive design elements. Mailchimp is a terrific resource for new bloggers, but it lacks features like the ability to tag your readers for interests based on their actions in emails and on your website.
Regardless of whatever ESP you choose, start from the beginning and begin growing your tribe right away. I assure you that your future self will be grateful!
STEP 7: Now that you've got everything set up, it's time to start writing!
That's all there is to it; you're done! You've successfully start a food blog and are now ready to start publishing delectable recipes that will entice readers from all around the world.