I am not a programmer and I don't know coding but I could build this website and still on the way to improve it. So don't worry if you don't know coding. I will show you how to build a website with WordPress and Bluehost.
Note: Affiliate links may be used in this post. I may receive a small commission at no extra cost to you if you use my affiliate link. Full disclosure policy here.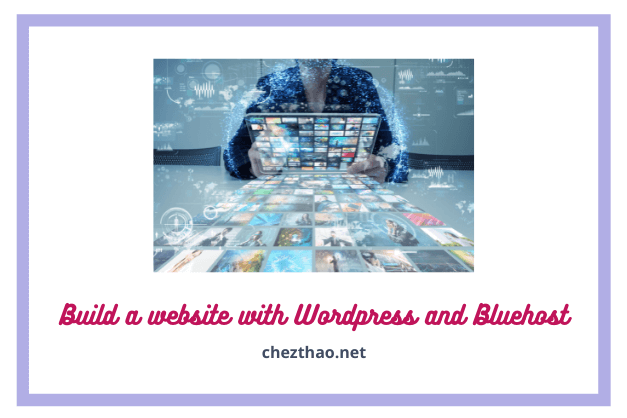 Part 1: Niche
The very first thing you have to do is choose a niche for your website. This step is very important as it is one of the most important factor as:
If you don't choose the right niche. It means your niche should be unique and suits your interest and your capability. Otherwise, you will have a hard time to compete with a lot of other competitors which doesn't bring much benefit.
A right niche will not only help you to stand out from the crowd but also push your site to the top of the search on the search engines. This means the readers can find out your site easily and you will get more traffic to your site.
Part 2: Platform WordPress
In order to build a website, you need to choose a platform. There are different choices of platform such as WordPress, Wix, Squarespace, Drupal,… But in this article, I will show you how to build a website with WordPress. Why I chose WordPress?
It's easy to customize and user-friendly.
Your website is "responsive" which means it works not only on PC but also on mobile phones and laptop.
Part 3: Theme
In order to have a beautiful and easy to use website, you need a theme. It is designed according to different topics related to your business.
There are free and paid themes. But paid themes help your website to look more professional and they cover all the function needed.
If you are tech savvy, you can use the themes of Envato.
The themes of 17th Avenue or Blossom Themes are very easy to use and have very nice design.
The price of a theme can be from $30 to $70 per theme. Pay attention to check their conditions if one theme can be used for one website or many. Usually the themes of 17th Avenue can be used for many websites.
Part 4: Domain & Hosting from Bluehost
After choosing your niche, you can find to buy a domain suitable for that niche. Besides, it should also be short and easy to remember. The tag of the domain .com should be prioritized in your list. This is because this tag is very easy to remember, popular and highly valued.
If you want to know how much your domain name value, check it out here.
There are different providers for domain names such as Namecheap, GoDaddy, Bluehost,.. for your choice. It's better that you choose the same supplier for domain and hosting. But you also can use different suppliers for domain name and hosting and then assign your domain to the hosting.
I chose Bluehost they are one of the best hosting providers. They provide their services with affordable price, good loading speed and extremely fast customer support service. In addition, they also has a lot of regular promotions.
They usually have different plans for you to choose from. One plan covers at least one year. The most economy one is enough for the start. It costs around $3 to $13 per month. It depends on the plan duration you choose.
You should take advantage of their big sales to upgrade your service plan or buy a 3-year plan right away cos it will save you a lot of money. Many of you think that it's expensive to buy the 3-year plan. But believe me, it's more economy as when the 1-year plan finish, you will have to extend it with the cost twice or even triple more expensive than the price of the promotion.
Part 5: Install WordPress
Go to Bluehost.com
Choose your hosting plan (cheapest plan is ok)
Choose your domain name
Fill in your information and choose your hosting length (you can remove the "Extras").
Go through the payment process and create your account
Log in to Bluehost use "one-click WordPress install" to Install WordPress
Part 6: Build a website with WordPress
1. Select "My Sites" on the Bluehost dashboard on the left hand side.
2. Select "Create Site" in the dashboard, upper right corner.
3. If you have already connected your site to WP, then you will see your website with "Manage site" button => select "Manage Site" and select Log in with WordPress. You will be taken to the WP admin panel to write posts and manage the site.
If you have not connected the site to WP, select "Create site", the screen will appear as shown below. Usually I will choose the first column Limitless Customization with WordPress because I find it easier to build a website. In the second column, Bluehost will guide you step by step to complete the setup of your website in the admin panel. But I'm more confused. After selecting the first column is WordPress => Click "Get started".
4. Fill in your website name and fill in the Site Tagline. A tagline is a brief introduction to your website that can include your website's main keyword. This Tagline section can be edited later on the WordPress admin panel.
5. Select the domain to install with WordPress.org (in case you have multiple domains). Click on the word Domain on the left and select the correct domain that you entered in step 3. The Directory section you leave blank does not need to be filled in => select "Next" at the bottom to perform the next step.
6. After installing step 4, the screen will display a message that WordPress has been installed and includes username + login password. You should save your username and password.
You can select "Login to WordPress" to go directly to the WordPress admin panel to manage pages or write posts.
The steps to install WordPress are as simple as that. If you haven't installed it or don't want to install it yourself, you can go to the Live Chat section and ask the technicians from Bluehost for help.
Hope these information and instruction will be useful to help you build a website with WordPress and Bluehost for your business faster.
Check out our other articles about blogging.