What are the best ways to use Manuka honey? There are several clever methods to get the most out of this miracle product.
Note: Affiliate links may be used in this post. I may receive a small commission at no extra cost to you if you use my affiliate link. Full disclosure policy here.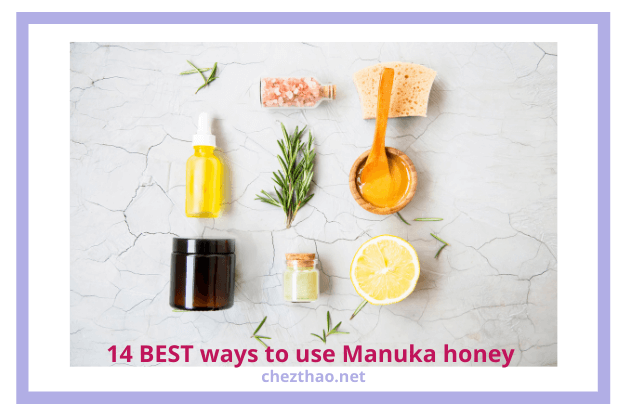 You've definitely heard about Manuka honey, but what exactly is it used for?
Because of its antibacterial characteristics, manuka honey may be used as a natural skin toner and as the active component in face masks.
Unlike other nectars, those generated by the blossoms of the Manuka bush, which is endemic to New Zealand, allow bees to make honey with high quantities of methylglyoxal (MGO), an antibacterial compound.
The stronger the antibacterial punch, the higher the MGO rating (all validated by independent laboratories in Australia).
So, what are some more great methods to get the most out of this cult health supplement?
Here are fourteen various ways to use Manuka honey:
Use Manuka honey directly from the spoon
The higher the MGO, the more effective your honey may be.
It is suggested that you drink honey from a teaspoon five times a day.
If your mouth needs a little TLC, place a tablespoon on your tongue and watch it melt away. Also, for at least 15 minutes, refrain from eating or drinking anything else.
Use Manuka honey in a smoothie
You may wish to limit the quantity of berries in your smoothie due to the sweetness of the honey. Otherwise, just combine your favorite recipe and you're ready to go!
If you keep any leftovers in the fridge, the honey will start to crystallize. If this happens, simply remove the cover and reheat the jar slowly while stirring until the crystals dissolve (sticking the jar in a pan of warm water does the job).
Manuka honey, like all honey, is not suggested for children under the age of 12 months.
Why not trying this delicious recipe: Blueberry Smoothie with Manuka honey
Ingredients:
200g blueberries
1 tsp oat bran
2 tbsp Greek yoghurt
150ml milk (or dairy-free alternative)
2 tbsp Manuka honey MGO 40
2 tsp bee pollen
Method:
Place all the ingredients except the bee pollen in a blender and blitz until smooth.
Divide between two glasses and top each with a teaspoon of bee pollen. Serve immediately.
Use Manuka honey on your skin
Its antibacterial characteristics make it a pleasant treat for your face, according to a research published in Evid Based Complement Alternat Med, which found it useful for antibacterial protection and wound healing.
So, how do you apply Manuka honey to wounds and blemishes? Apply with freshly cleansed hands or a cotton bud straight to painful regions or sores on the skin. And, as tempting as it may seem, resist the urge to lick it.
Use Manuka honey as part of a DIY facemask
The facemask craze is still going strong in the beauty industry; not only are masks good for your skin, but they also provide you an excuse to sit back and relax.
Because manuka honey is a popular DIY component because to its cleaning and calming effects, you'll get more out of your own, customized blend and a formula that's tailored to your skin's requirements (plus there's no packaging).
Moisturising Mask with Manuka Honey
Manuka Honey may be used as a facial mask on its own by simply applying it to a clean, moist face, or it can be combined with coconut oil and avocado to provide intensive hydration. This delicious-smelling mask moisturizes your skin and gives it a healthy, radiant look.
1: In a mixing bowl, mash 14 avocados until smooth, then add 1 teaspoon coconut oil and 1 teaspoon Manuka honey. Toss everything together well.
2: Apply the mask in a circular motion with slightly moist fingertips and leave on for 15 minutes.
3: Once the mask has completed its task, wash it off with warm water before slapping cold water on your face to shut your pores.
Exfoliating Mask with Manuka Honey
Three important ingredients make up this exfoliating mask: olive oil, brown sugar, and Manuka honey. All of the components are natural and excellent at deeply cleansing the pores. Olive oil is used to soften the skin, brown sugar is used to exfoliate gently, and honey is used to soothe.
1: Combine 1 tablespoon extra virgin olive oil, 1 tablespoon brown sugar, and 1 tablespoon Manuka honey in a mixing bowl and stir thoroughly until the scrub is thick and somewhat sticky.
2: Apply to a wet face for 1–2 minutes, focusing on any trouble spots.
3: Wash your face with warm water and moisturize afterward for a longer-lasting impact.
Relaxing Bath with Manuka Honey
This milk and Manuka honey bath recipe is a unique but traditional way to brighten your skin. Because the lactic acid in the milk cleanses and the honey softens the skin, the unique mix exfoliates and softens it.
1. Make sure you're using full-fat milk and Manuka honey.
2. Fill a running bath with 1 to 2 cups of milk and half a cup of Manuka honey. Before jumping in, make sure the water, honey, and milk are thoroughly combined.
3. Before washing off, rub your skin in a circular motion with a washcloth for best benefits.
Use Manuka honey in your meal
If you're still looking for ways to utilize Manuka honey, try substituting half a cup of honey for half a cup of sugar in baking and lowering the oven temperature by 15°C to keep it from browning too much.
Cooking honey at a high temperature, on the other hand, may harm the honey's natural enzymes. Swap the amount of sugar in liquid recipes for the equal amount of honey.
Use Manuka honey in hot water or tea
One of the finest ways to consume Manuka honey if your throat is sore is to swirl it into hot water or tea.
According to a research published in The Journal Of Oral Rehabilitation, drinking Manuka honey lowers the quantity of Streptococcus mutans, the bacterium that causes sore throats.
As a result, you'll get all of Manuka honey's antibacterial qualities as well as a calming but delicious drink to drink!
Use Manuka honey in your morning porridge
Add Manuka honey to your hot cooked porridge oats to start your morning off right.
You'll have energy for hours thanks to the blend of slow and rapid GI carbs.
Use Manuka honey in your yogurt
Simply whisk a tablespoon of Manuka honey into yoghurt, along with any other desired ingredients (we like chopped nuts, berries, ground flaxseed and flaked coconut).
It transforms basic yoghurt into a pleasure you'll want to eat again and again.
Use Manuka honey over fresh fruits
Manuka honey pairs beautifully with chopped fruit or mixed berries.
We think it combines especially well with citrus fruit: for a sweet breakfast or mid-afternoon snack, try orange slices or grapefruit halves drizzled with Manuka honey.
Use Manuka honey with roasted vegetables
Manuka honey is a great way to dress up roasted root vegetables. To roast carrots, combine the honey and orange juice, or brush a golden glaze on parsnips. Do you prefer to stir-fry your vegetables?
Use Manuka honey in salad dressing
Salads are a nutritious and adaptable lunch choice.
To spice things up a bit, mix a little spoonful of Manuka honey into your homemade salad dressings for a subtle sweetness that won't dominate the other flavors.
Use Manuka honey on muffins
What could be better than fresh-from-the-oven muffins drizzled with healthy Manuka honey?
Warm a little honey to make it thinner, then glaze your muffins with it using the back of a teaspoon. It's also a great addition to your next cake!
Use Manuka honey on warm pancakes and waffles
Drizzle Manuka honey over fluffy pancakes, delicate crepes, or heated waffles to take them to the next level.
Begin by scattering them with berries, nuts, or seeds, and then finish with honey.
Use Manuka honey to make a hot drink
But why not add a bit to your favorite tea or make healthy hot chocolate with almond milk and cacao powder?
Check out the best products of Manuka honey of
More information about Manuka honey here!