This delicious cranberry sauce recipe only takes 3 simple ingredients to make. It's almost as easy as opening up the can and tastes So much better! Promise! The addition of fresh orange juice and orange zest really takes the flavor up a notch. So yummy!
The cranberry sauce is so easy to make and can be prepped ahead of time. I love to make it a couple of days in advance or even a few weeks before and store it in the freezer. It's the perfect Christmas or Thanksgiving side dish and adds just the right amount of fresh flavor to your holiday meal. Plus the leftovers taste amazing and are even better the next day!
Note: Affiliate links may be used in this post. I may receive a small commission at no extra cost to you if you use my affiliate link. Full disclosure policy here.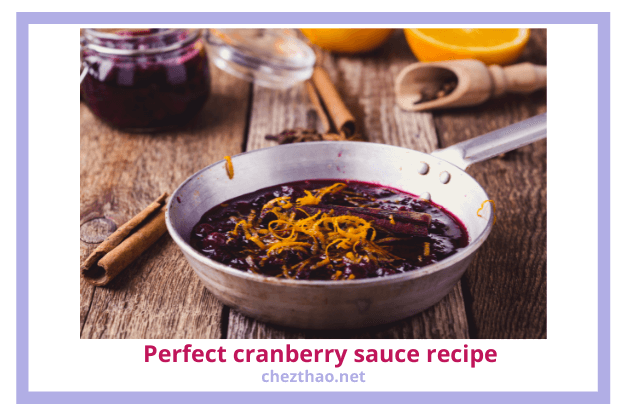 Cranberry sauce recipe
Ingredients:
To make this cranberry sauce recipe, you simply just need the 3 ingredients below. All of the ingredients mixed together make a magical sauce that is so fresh and delicious!
Cranberries: Look for fresh cranberries that are bright red in color and firm to touch.
Orange: This recipe uses the juice and zest of a fresh orange.
Sugar:Add granulated sugar to give it the perfect sweetness. For a healthier alternative, you may use pure honey or maple syrup.
Procedures:
Combine the orange (juice + zest), sugar and water in a medium pan over medium heat and bring to a light boil.
Stir in the cranberries and a pinch of salt.
Cook for about 10 minutes, or until most of the cranberries have burst.
Mash the cranberries if you prefer a smooth sauce.
Serve warm or cold, whichever you prefer.
It can be served warm or cold. I typically serve it cold since I make it a few days in advance and store it in the fridge. If you're serving it warm, you can easily make it ahead of time and then place it in the slow cooker on the warm setting. It will make your home smell amazing!
To store: This sauce will keep in the refrigerator for about 1-2 weeks. It's the perfect holiday side dish to make ahead of time and stick in the fridge until you're ready to serve. Plus the flavors marinate together wonderfully when stored in the fridge! Just place in an airtight container and stick in the fridge until serving.
To freeze: It can easily be stored in the freezer a few weeks before serving. Store in an airtight container or freezer bag. To thaw, stick in the fridge overnight. You can serve cold or warm up in a sauce pan or slow cooker, whichever you prefer.
Cranberry sauce is a traditional relish that tastes delicious on top of roasted turkey, roasted chicken or baked ham. There are lots of other yummy ways to use up the leftovers (if you have any). Check out the ideas below.
Place on top of baked brie
Make my favorite cranberry meatballs
Serve over top of yogurt or oatmeal
Top your waffles or pancakes with a spoonful
Serve warm over vanilla ice cream or even make this apple crisp with the leftovers
Recipe credit: Jamielyn Nye